Today, I've snuck a bit of contraband into the ballroom.  I'm hoping Lady B won't take notice… But as usual, nothing escapes her ladyship's attention.
Lady B:  Miss Dare, am I mistaken, or are you reading the newspaper? In my ballroom?
I'm sorry, Lady B.  I'm just so engrossed by the news of the royal wedding.
"Still?" says Lady B.  "I thought that was all finished months ago."
No, no.  Not Wills and Kate–
Lady B gives me a stern look.  "Miss Dare, tell me you did not just refer to the Prince of Wales as 'Wills'."
Er… Of course not.  Anyhow, I'm reading about a different royal wedding today.  The wedding of King Jigme, the Dragon King, to 21-year-old Jetsun Pema, a commoner.  Isn't it romantic?  He married down, just like you did when you fell madly in love with Lord B.
Lady B's cheeks color slightly.  "I'll have you know, there was nothing 'mad' about my courtship with Lord B."
<<Squawk! Cuckoo!>>
Really, Lady B?  Albert seems to have other ideas. But here, before you turn positively crimson, have a look at these highlights:
(If you'd like to see even more beautiful footage from the wedding and celebration, including the king and queen's first kisses, click here. The video can't be embedded, sorry!)
Lady B peers hard.  "What pageantry.  Their attire is remarkably colorful."
Gorgeous, isn't it?
"Indeed.  I've never seen the like.  Where did you say this was, again?"
Bhutan. It's a tiny Himalayan country.  The only nation on earth to take a routine measurement of Gross National Happiness.
Lady B lifts an eyebrow. "I'd say those two look quite happy indeed.  They're likely skewing the average."
I think their happiness is contagious.  There's nothing like the tale of a king marrying a commoner to capture the public's imagination — especially when the bride in question is so lovely and the king is so obviously adoring.  Just listen to this bit from the newspaper article, Lady B:
Others admire the apparent impact the daughter of an airline pilot has made on the king, who talks openly of his love and admiration for her, even holding her hand at public functions.

"He really loves her," said 16-year-old schoolgirl Jurme Choden as she waited to practise a dance routine for the public celebrations on Saturday. "Wherever he goes he holds her hand. Now young people are starting to copy."

The royal couple apparently met when aged 17 and seven respectively at a family picnic in Thimphu.

The then-prince got down on his knees and said "when you grow up, if I am single and not married and if you are single and not married, I would like you to be my wife, provided we still feel the same," he told students in August.
Lady B looks amazed.  "Seven years old?  My word.  How precocious."
If that's not fairy-tale material, I don't know what is!
Do you know any real-life love stories that bear a resemblance to fairy tales?  Your own, maybe – or the stories of parents, grandparents, friends or acquaintances?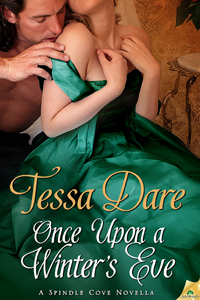 Speaking of fairy tales, you might have heard that I have a Christmas novella coming out!  It's a Spindle Cove story, and it's called Once Upon a Winter's Eve.  When my agent read the story, she called it "a fairy tale for nerdy girls."  I quite like that description, since I consider myself the nerdiest girl of all.
 I just got the cover art late last week and couldn't resist sharing today.  Isn't it lovely?  It'll be available November 15th!