Lady B: Miss Darby, this no longer looks like Mayfair.
No, it doesn't, in fact, it doesn't very much look like Regency London at all anymore, the streets are exceedingly rough, and rather…filthy, and teeming with an exceedly raucous crowd in panniers and tricorn hats, but I'm following the directions given to me by that impertinent Zoë Archer, who has convinced me to pull Lady B away from her usual Saturday pursuits in order to meet her in a not completely respectable locale.
Not just any author can make me risk Lady B's good (yes, I know I'm stretching the definition of good here) opinion of me. But when it comes to not completely respectable, I trust Zoë. The author of the Blades of the Rose paranormal historical adventure series, she's now brought us the sinister and sensuous Hellraisers series. The Town's latest intelligence informs us that the Hellraisers are a group of 18th century rakes who inadvertently free the Devil and wind up literally raising Hell. DEMON'S BRIDE is the more recent book in the series, which is available on May 1. The broadsheets describe DEMON'S BRIDE thusly:
Leo Bailey may have been born to poverty, but ruthless business sense and sparkling intelligence have made money worries a thing of his past. It doesn't hurt that the Devil himself has granted Leo the ability to read the future.
But even infallible predictions are a déclassé commoner's trick to some members of the ton. They'll never see Leo as their equal – one good reason to prove himself their better. And a noble marriage is an obvious start.
Bookish Anne Hartfield, daughter of a baron, is hardly the flashiest miss on the marriage market. But her thoughtful reserve complements Leo's brash boldness in an attraction neither can deny. A whirlwind courtship sweeps Anne and Leo into a smoldering marriage before either can believe their luck. But happiness built on Leo's dark powers can't last. Soon, Anne will have to save her husband…or lose her heart.

My goodness, look at that cover!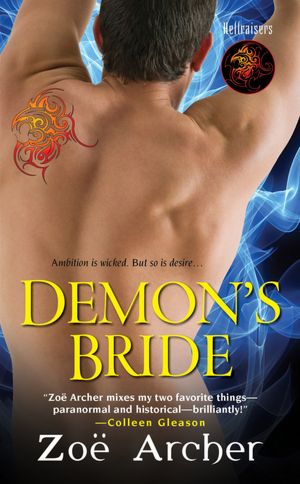 There is an excellent chance that Lady B will never forgive me once she discovers where we are going but…from what I understand, the gentleman Zoë wants us to meet is worth the trek. I can only hope that it will turn out to be this Leo Bailey…after all, commoner or not, ruthless business sense sounds very heroic! (Not that I'd ever say that aloud to one of these heroes.)
The carriage stops.
Lady B: A tavern!
Sabrina: Not just any tavern, Lady B. This one was quite in vogue among a certain set when you were just a child. Or perhaps before you were even born. I'll be sure to find out from Zoe what year we are in once we find her.
The low-hanging ceiling beams are stained with smoke, and sharp-eyed men at tables huddle over their tankards. Three men in a corner play at dice. All eyes turn toward us as we enter.
A short young man in a full-skirted coat and tall boots approaches us, boldly calling our names. Before I can rebuke the lad for his impertinence, he says, "It's me, Zoë. I thought it more expedient to wear men's clothing, so as to avoid unwanted attention."
Lady B: You mean, the sort of attention that Miss Darby and I are currently receiving?
Zoë: Oh, but you'll be glad of the attention in a moment, Lady B! Please, follow me. There's someone I'd like you to meet.
Weaving her way through the tables, Zoë leads us to the back of the tavern. She pulls aside a curtain, revealing a small private room. Any words of further reproof Lady B might be preparing to unleash immediate die upon her lips the moment she catches sight of the man waiting for us.
He moves away from the fireplace and approaches us with the sleek movement and determination of a predator. Predatory indeed is the light in his clear, calculating gray eyes, and I realize why this man is one of the wealthiest non-titled gentlemen in England. His blond hair is tied back in a simple queue, and his clothing is of excellent quality. Lady B's gaze drifts down the man's leanly muscled legs. Her disappointment is visible when she notes that the man's calves are hidden by a pair of gleaming boots.
Zoë: Lady Beaufetheringstone, Miss Darby, may I present to you Mr. Leo Bailey.
Leo: (with an elegant but curt bow) Ladies. I suppose I'm to murmur some gallantries to you at this point, but I know only plain speaking. A fault of my birth and profession.
Lady B: It's rather unfashionable to talk of professions, Mr. Bailey.
Leo: Money doesn't earn itself, Lady B. And ambition such as mine has no concern for fashion.
Zoë: (sotto voce to Sabrina) Leo's rather sensitive about the fact that he's a commoner. It's something that the elite of London Society never lets him forget. Makes him rather…determined. Unstoppable, really.
Sabrina: Sounds perfect. What makes you want to write about men without titles? I mean, Lady B was romantic enough to marry down, much like your Miss Hartfield will be, but she still married a lord.
Zoë: I'm fascinated by men—and anyone, really—who has to forge their own way in the world, rather than having something handed to them. Men without titles take nothing for granted, plus they've had to fight for everything. It takes a considerable amount of drive to rise from a saddler's son to one of the most feared and respected men on the Exchange, the way Leo has.
Sabrina: OK. Another question that I need an answer to, where do you come up with all these delicious heroes?
Zoë: Having created such a band of upstanding gentlemen as the Blades of the Rose, I wanted to see just how bad I could make a bad boy, if he could be both the hero and the villain of his story. Thus, I created the Hellraisers.
Leo: No one created the Hellraisers, madam. We answer to no one.
Sabrina: (In an aside to Zoë): These heroes and heroines always have difficulty comprehending that us authoresses are actually in charge. Although, I have to say, from the look of things, if any hero could wrest control away from you, it might be this Leo Villain/Hero of yours.
Lady B: So you say that this Mr. Bailey frees the devil? That seems…very…unusual.
Sabrina: Zoë writes paranormal romance, Lady B. Devil unleashing and the like is just par for the course.
Lady B: Para Normal? I did have a woman conduct a seance for amusement. But she clearly had no supernatural powers at all.
I'm feeling a bit bad, I mean, I know we are continually stretching Lady B's patience what with talk of airplanes and the internet, but perhaps this is finally a bit much. Wait! Gaelen did bring the discussion of magic into the ballroom a few weeks ago. Relieved sigh.
Sabrina: I think Mr. Bailey actually does have powers.
Zoë: He does, as do his fellow Hellraisers. Each of them were given a particular magical gift by the Devil in exchange for giving him his freedom. Since Leo deals in futures, he can now actually see into the future. Though…we oughtn't speak of the powers bestowed upon him and the other Hellraisers.
Leo: Revealing our gifts will result in very unpleasant repercussions. Suffice it to say, there are powers at work. Very dark powers that walk the streets of this city.
Lady B: (To Leo) Here? In London? It really wouldn't do to disrupt the season.
Leo: (makes scoffing noise)
Zoë: Bad news, Lady B. Those sinister forces are, in fact, here in London. Perhaps now would be a good time to visit your country estate—although, if the danger goes unchecked, not even the most rustic country seat will keep you safe.
Lady B is looking at me with the most alarmed expression and I think this might be the best time to tell her that this all happens several years before the season she cares about. In fact, I am certain, as Miss Archer is a romance novelist, there will be nothing but happy endings all around.
Of course, as usual, Lady B is one step ahead.
Lady B: Mr. Bailey, I suggest you find yourself redeemed by a good woman as soon as possible. If not, I will hold you fully responsible for interrupting my entertainments. (She turns to me.) And yes, Miss Darby, I can see very well from the fashion that you've done something with the year again, but that is no consolation.
Leo: Though I'm a man of quick temper, I can assure you, Lady B, that if someone earns my respect, I can be exceedingly…generous.
Lady B: (raising her eyebrows) Generous. How intriguing. Next time, Mr. Bailey, you will call on me in my ballroom. If it still exists after all the trouble you seem to cause. (Aside to Zoë:) I don't think I'll mind if you create more like him, but do assure me you've concocted just the right woman for him.
I have no doubt that Zoë has done just that. After all, every hero (even villain/heroes), commoner or noble, deserves a heroine. How about everyone else? Do you have a favorite non-titled hero of romance? While Demon's Bride releases on May 1st (Which also happens to be my birthday!), Zoë is generously giving away a copy of her steampunk romance Skies of Fire (set in The Ether Chronicles steampunk world she co-created with her husband Nico Rosso) to one commenter.