This month, many of the authoresses have been sharing sneak peeks into future works.  Today's my turn!
I received a very spe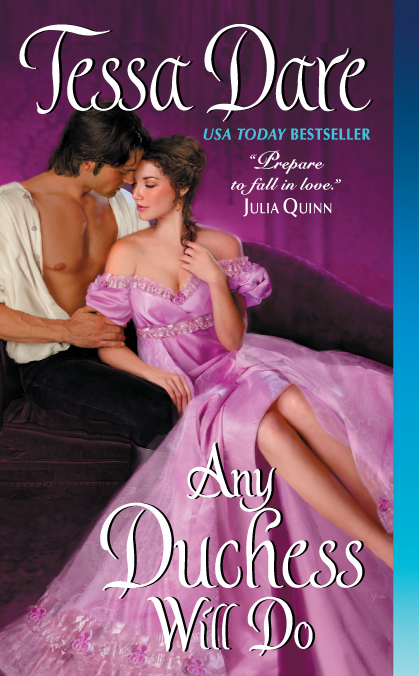 cial package in the mail just the other day, and I can't wait to show Lady B.
"Lady B., look what came for me in the post last week! It's so exciting. I have an ARC!"
Lady B. presses a hand to her throat.  "Oh, dear.  Please tell me we're not having another ship crash into the ballroom.  I have not forgotten Miss Noble's stunt with that frigate.  On particularly warm days, the drapes still smell of brine."
"Not an ark, Lady B.  An ARC.  It's an Advance Reader Copy of my next book, Any Duchess Will Do."
"Ah," says Lady B, taking my precious volume in hand.  "ARCs sound much more pleasant than arks.  At least, tidier in the ballroom."
I nod.  "They hardly ever smell of brine.  And I don't get these ARCs very often anymore.  Not printed on paper, anyway."
"Well, what would they be printed on, if not paper?  Animal skin?"
"No, no.  Usually the preview copies aren't printed at all anymore.  They're just sent electronically."
"That Inner-netting again?"
"Precisely.  So I was wonderfully surprised to have these actual paper copies arrive.  And I immediately opened one and laughed, because for the first time I saw what excerpt they'd chosen for the teaser page at the front of the book.  It's, ahem, just a little bit salty."
Lady B. glares at me.  "Salty! I was promised no brine."
"Different kind of salty, my lady.  Go on, read for yourself."
(And if you care to, you can read for yourself in the snapshot below.  If you click, you can see it enlarged.)
Here's the blurb for Any Duchess Will Do:
What's a duke to do, when the girl who's perfectly wrong becomes the woman he can't live without?

Griffin York, the Duke of Halford, has no desire to wed this season—or any season—but his diabolical mother abducts him to "Spinster Cove" and insists he select a bride from the ladies in residence. Griff decides to teach her a lesson that will end the marriage debate forever. He chooses the serving girl.

Overworked and struggling, Pauline Simms doesn't dream about dukes. All she wants is to hang up her barmaid apron and open a bookshop. That dream becomes a possibility when an arrogant, sinfully attractive duke offers her a small fortune for a week's employment. Her duties are simple: submit to his mother's "duchess training"… and fail miserably.

But in London, Pauline isn't a miserable failure. She's a brave, quick-witted, beguiling failure—a woman who ignites Griff's desire and soothes the darkness in his soul. Keeping Pauline by his side won't be easy. Even if Society could accept a serving girl duchess—can a roguish duke convince a serving girl to trust him with her heart?
Do you have a better word to suggest to Griff, other than "flutterings"?  (I mean, really.  Flutterings.  Hah.)
Or failing that, do you have a favorite Pygmalian or Cinderella-esque romance, where a girl starts from the lowest of circumstances and rises to the highest echelons of society?
One commenter will win an Advance Reader Copy of Any Duchess Will Do!
Edited 2/19: Thanks for all the great comments!  I've had so much fun reading them.  I'll keep this open until midnight Eastern tonight, and then I'll draw a random winner and post.