As I enter the ballroom today, I see it looking quite different than I remember it ever appearing before.  The heavy velvet drapes have been drawn, and only a few candles are lit.
In a word, it's dark.
Blinking into the gloom, I ask Lady B if there's a reason for our sudden change in atmosphere.  As was expressed last Saturday, we authoresses do tend to be fans of all things "light, bright, and sparkling," as Jane Austen put it.
"Why, Miss Dare," says Lady B, "you did tell me you were inviting Miss Claremont to visit.  I wanted to make her comfortable.  You did tell me she is the author of The Dark Lady."
"That's true," I admit.  "And there's no denying The Dark Lady is rather a dark book."
"Then what more logical atmosphere for her visit?"
I can't argue.  I can only hope that no one trips and breaks something.  Lady B is obviously from a time before liability insurance.
"Here she is now," Lady B informs me, peering out the window from behind a fold of drapery.
I make the introductions, making sure to let Lady B know that Maire is pronounced "Moira".  And I warmly congratulate Maire on the release of her debut novel.  Such a thrilling time!
Maire:  My dear Tessa and Lady B, thank you so much for having me. Its been such an exciting month. At last, The Dark Lady is out in the world and I couldn't be more proud and excited. The story is definitely a book of the heart and once I started writing it, nothing could stop me.
Lady B: Yes, dear.  But tell us about the darkness.  I'm so intrigued.
Maire:  There were a lot of works that inspired parts of The Dark Lady. When we first meet our heroine she's in an asylum, having been locked away by her brother-in-law after the death of her husband.
Tessa:  Locked away by her own family?  How cruel.
Maire:  What really strikes me about the Victorian period is the lack of power women and children had and how so many men easily disposed of them to horrific places.
The Yorkshire Schools are notorious for bad conditions, illness, and abuse. Granted, they weren't asylums like in my story, but they had the same issues. The most fascinating and heart wrenching depiction of these schools is Dotheboys Hall in Nicholas Nickleby.
Lady B:  I've never heard of it.  Who wrote that book?
Tessa:  Er…no one, yet. But a man named Charles Dickens will, in a few decades.
Moire:  Nicholas Nickleby was based off a real Yorkshire school to which the children were sent, often never to come home again. A father would pay a fee to "educate" an unwanted child. Often times, you'd see children from a previous marriage sent here since the new father didn't want to have them in his house.
In Dotheboys Hall the boys are given tar and porridge to fill their bellies, they are virtual slaves, and have no chance of escape. They are routinely beaten and demoralized. Nicholas' rescue of the boy Smyke who has been abused all his life in this school is one of my favorite tales ever. I'll never forget how alone I thought that boy must have been. But Nicholas, true hero that he is, loses his own job as a teacher in the school to stand up for the boy.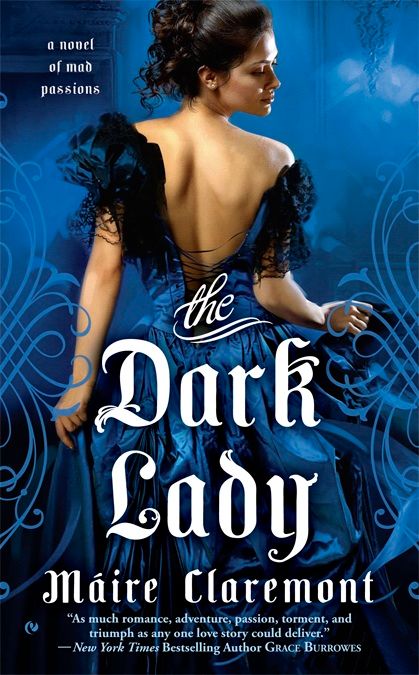 How many other children were left in these places is impossible to say, but their lack of support, care, and abandonment definitely inspired The Dark Lady. Palmer's Asylum is much like Dotheboys, only it's for women who are "insane". In the Victorian period it was very easy to have a woman committed. Only two doctors' signatures were required to have a woman locked away from the rest of her life.
Lady B:  Shocking! Just two? Everyone knows only 4 out of any 5 given doctors can agree on anything.
Maire:  And these doctors were often corrupt. Insane asylums at this time were desperately unpleasant. All inmates were kept together with few resources and absolutely no love. Like Smyke, I knew, my heroine had to be rescued. Luckily, her hero, Lord Ian Blake, a childhood friend, finds her and steals her away.
Tessa:  Hooray for rescuing heroes!  I do hope we are promised a happy ending.  A light at the end of the dark, dark tunnel.
Maire:  Yes.  Both Ian and Eva have faced a great deal, but after reading such stories about the asylums and Yorkshire schools, I wanted to tell a story where the characters have stood at the abyss and almost not been able to come back from it. But, unlike in Nicholas Nickleby, I wanted a happy ending for my heroine. Poor Smyke never does recover, but Eva conquers London and with  Ian she's able to overcome the tragedies of the asylum.
It's certainly a much darker side of Victorian life than we often see, but it fascinates me how easily women and children could be swept aside. I'm so grateful that in my stories, they can seize their own fates with their hands and find powerful happily ever afters.
Tessa:  I'm grateful for those happily ever afters, too! Maire, thank you so much for joining us today.
More about The Dark Lady:
Lord Ian Blake has returned from India a broken man. Years ago, he pledged to Lady Eva Carin—his childhood companion and " first love—that he would bring her husband back alive. His failure haunts him. But even his jade soul can't anticipate the shocking sight of beautiful, independent Eva confined in a madhouse….

Locked in an asylum, forgotten by society, Eva is adrift in both body and mind. For Ian to break her free, they must cross a powerful enemy—and prove her sanity to England's unforgiving aristocracy. But the biggest danger of all may come when the secrets of Eva's tragic past are finally unlocked….
One lucky commenter today will win a copy (print or electronic)!
Sometimes stories of deep, dark emotion and loss can give us the most soaring sense of joy and triumph in the end.  What are some of your favorite darker tales–be they from romance or other genres–where characters truly "stand on the edge of the abyss" as Maire describes?