"My dear Miss Dare," says Lady B upon my arrival in the ballroom today, "are you well? You are looking rather…"
"Taxed?" I suggest.
"Yes. Just the word."
I heave a sigh and sink beside her on a plush divan.
"Do put up your feet," she urges.
"I don't mind if I do. It is Tax Day, and I will admit, I'm feeling taxed in many ways, Lady B. I'm not sure I have the heart for much beyond a well-spiked glass of ratafia, a perusal of some fine legs, and–"
squawkMadlibs!squawk
"Thank you, Albert. Yes. On tax day, a bit of silliness will be just the thing. It's been far too long since we've played cover blurb MadLibs." (Or MadGlibs, as this untrademarked version is called!)

You know how these work, right? Fill in the blanks, hit the button, and please copy and paste your silliness into the comments! On Tax Day, we all need a good chuckle!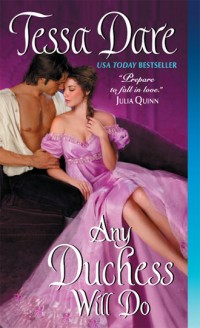 Read the real blurb for Tessa's Any Duchess Will Do here.
Read the real blurb for Kate's Let it Be Me here!