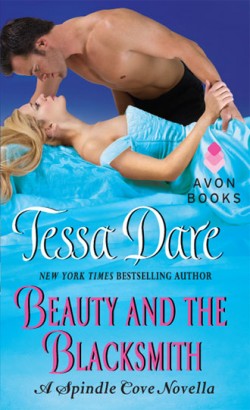 "Oh, Lady B! I'm so happy. Tomorrow's a release day for me."
"I'm so glad to hear it, Miss Dare. Who are the lucky couple this time? Another of those charmingly…unique…Spindle Cove ladies, I presume.  And does she get another rakish viscount? A taciturn officer, perhaps?"
"None of the above, my lady. This time, I've paired Miss Diana Highwood with the village blacksmith, Aaron Dawes."
"The blacksmith?" Lady B sputters.
Despite Lady B's obvious surprise, she's still taking this much better than the heroine's mother will.
"Yes, that's why the book is called Beauty and the Blacksmith."
"But Miss Dare, where would a gentlewoman and a blacksmith have any opportunity to become acquainted, much less fall in love?"
"At the smithy, of course. You see, Diana's been infatuated with Aaron for ages. She brings every scrap of metal she owns to the smithy, just so she'll have an excuse to sit and watch him work. She's broken her necklace three times now by smashing it with a rock, just so Mr. Dawes can mend it."
"Ah," says Lady B. "I do know well the silly games young lovers play when they want to find time together."
"Do you?" I sidle close, sensing a juicy story. "Do tell."
"Once, at a ball in my first season, I developed a potent infatuation with the most handsome gentlemen I'd ever seen. Never in my young life had I glimpsed a finer pair of legs! I thought I noticed him admiring me too, but my dances were already reserved for the evening. Every last one, taken! By a line of boring old men my mother had chosen."
(I make a mental note to ask about Lady B's mother on another occasion.)
"I just knew I had to talk to that man," Lady B says, leaning close. "Whether we met on the dance floor, the gardens, or somewhere else. I sensed that my future happiness would depend on it.  I was desperate, so I…"
She whispers the rest to me behind her raised fan.
"No," I say.
"Oh, yes."
I can't help laughing. "Did you ever tell Lord B the truth after you were married?"
"My dear girl. What makes you think the gentleman in question was Lord B.?"
I am shocked. Shocked.
But I approve.
"Say, Monty," I ask, "what's the most ridiculous thing you've ever done to impress a lady?"
Monty lifts his head to answer. Even from across the ballroom, I can see that fresh bruises cover his face. "Well, let me think…" he begins.
"Never mind," I say.
I mean, really. He must have so many stories to choose from! We could write about it for a month. Oh, wait. We did.
What about you? What's the strangest, silliest, or most outrageous or embarrassing thing you've ever done to get the attention of someone you fancied?
And what bold ploy to catch a gentleman's attention do you think Lady B whispered behind her fan?