Today for once I'm not late. In fact, none of the Ballroom authoresses are. And Lady B is looking very pleased (especially with herself).
She's decorated the ballroom pink (with a rather purple parasol resting against the wall, which caught my eye immediately, partly because Albert is perched on the tip).
"What's going on?" This from Monty, who has stumbled into a sudden nest of very feminine domesticity. I can see him eyeing the odd assortment of bulky items currently artfully set out about the room.
We all giggle. Because, it's not like you can't tell at this point. I mean, just look at Lauren in her "expectation of a happy event."
"There will soon be a little Willig joining the world," Lady B says pointedly, "and in honor of my authoress, I am having a very special soiree." (After all, while ceremonies around birth stem from the earliest days, baby showers as we know it are a rather modern invention.)
"It's a trap!" This from Harold, the little beast.
"Not a trap. A celebration!" I add. Because, after all, I rather like needling Monty.
We all watch him skedaddle from the room, Harold close behind.
"Well," Lady B exclaims with a huff. "Not an entirely unexpected reaction. But enough of my errant nephew. Dear Miss Willig, as this is your first child, and you are convinced it shall be a girl, though how you can claim to such stubborn clairvoyance, I know not, I find it rather of essence to send you forward into motherhood prepared. Thus, your fellow authoresses and I have brought you gifts and a bit of advice. So without further ado, Albert?"
<< squawk>> Ahem << squawk >> He flies over to the center to Lady B's shoulder and begins to announce:
From Kate Noble: A three-wheeled pram, and the docile husband to push it.
From Miranda Neville: A cotton lawn gown for the fashionable Regency baby girl. http://media.vam.ac.uk/media/thira/collection_images/2008BT/2008BT9606_jpg_l.jpg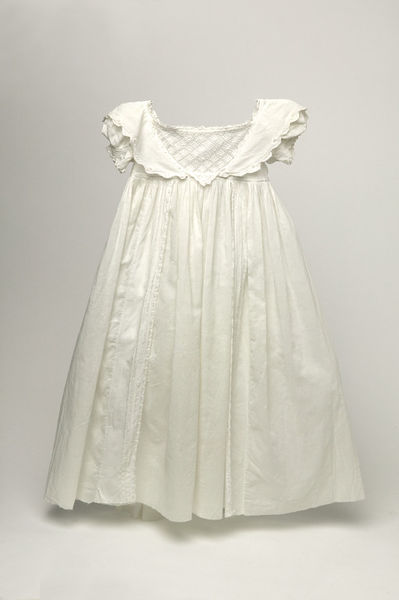 From Katharine Ashe:
A silver and coral rattle, whistle and bells all in one.
(So entertaining that Monty can play with it when the baby isn't using it.)
From Sarah Maclean:
No daughter of Lauren's should be without a Regency-style dollhouse,
so I'm giving her one styled by Mrs. James Ward Thorne (full
collection here: http://www.artic.edu/aic/collections/artwork/category/15)
Complete with Drawing Room, Foyer, Music Room & Dining Room

Congratulations, to the whole Willig family…I can't wait to meet the
little one!
From Sabrina Darby:
For the mother! Everything you need for a week of spa-like pampering delivered by your personal masseuse.
From Tessa Dare:
Before I became an authoress, I was a children's librarian–so I'm always fond of giving books at baby showers. I would love to present little Baby Willig with a copy of Orbis Pictus (the English translation, of course). Originally printed in Czech and German in the 17th century, it is known as the world's first printed children's picture book. And as you can see, it's not so different from our "baby's first words" books today!
Anyone who likes can view the full book online at Project Gutenberg:
http://www.gutenberg.org/files/28299/28299-h/28299-h.htm
And also from Tessa…
"She must have a pleasing countenance, a bright and cleare eie, a well formed nose, neither crooked, nor of a bad smell, a ruddie mouth, and verie white teeth: She must deliver her words well, and distinctly, without stammering: and she must have strong and big necke: for thereby (as Hippocrates saith) may one judge, of the strength of the bodie. She must have a broad and large breast, garnished with two Paps of a reasonable bigness, neither limber, nor hanging down––"
"Albert!" Lady B interrupts him quickly. "I don't believe that snippet about how to choose a wet nurse was meant for public consumption."
<< Squawk >>
"As for me," Lady B announces, "Miss Willig, I have turned one of the spare bedrooms into a lovely nursery so that you may continue to write your fabulous novels while being assured of your daughter's well being."
Dear Ballroom denizens, what words of wisdom or Regency gifts would you like to offer to Miss Willig at our very first Ballroom Baby Shower? And, since no Shower would be complete without a game, please leave your best suggestion for a Regency-esque baby name.